Dec 13, 2021 11:58 AM Central
Martina Wall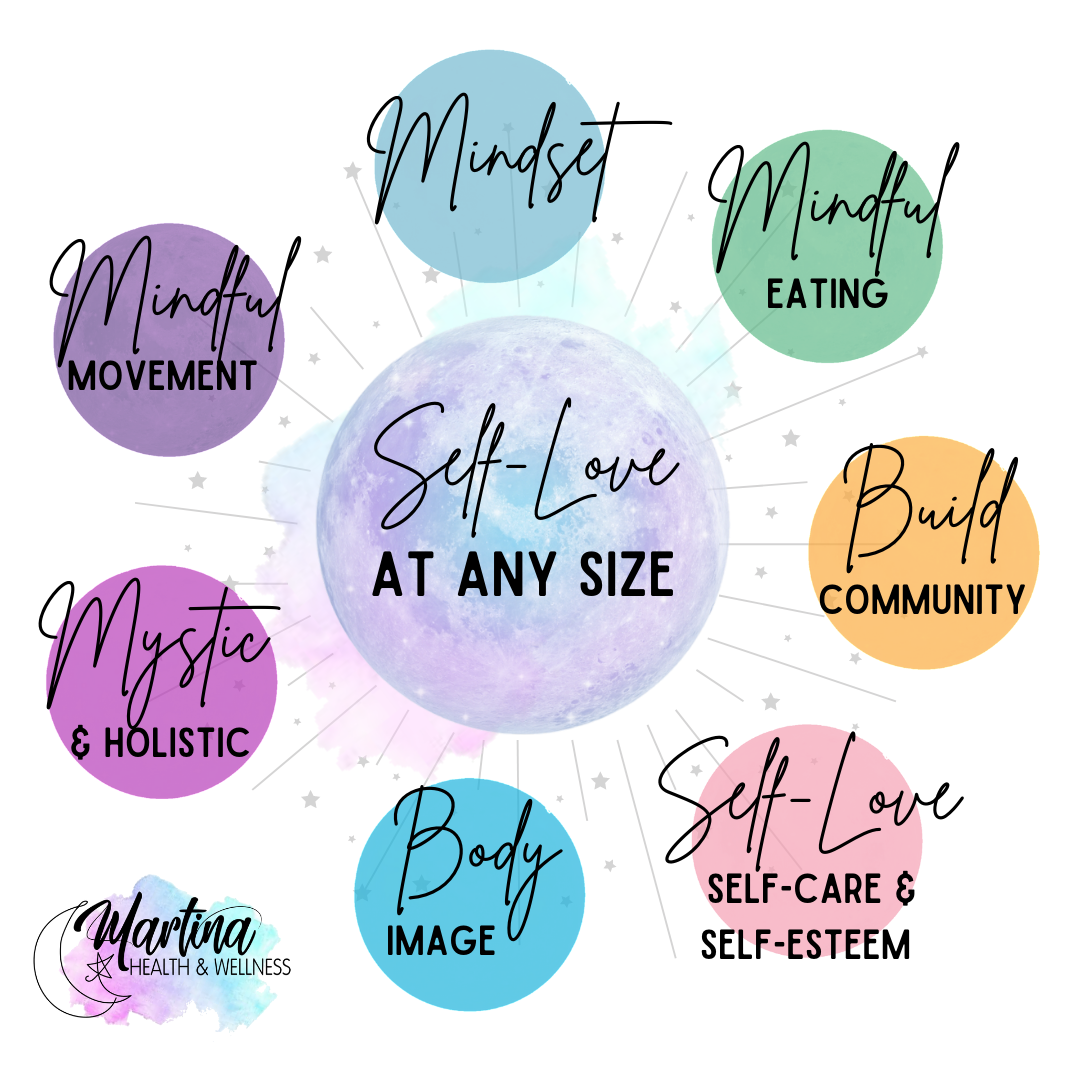 Have you ever wondered what exactly it takes to find self-love at any size? If someone could just give you a system that actually works, creates a healthy body image, boosts your confidence all the while helping you to ditch the diet mentality while finding movement you love?
Well...look no further. The Self-Love at any size method™ is here to help you actually find self-love any size. I wanted to share with you some insight into this method I have created, hoping to ignite the spark within you to take the first brave step towards true self-acceptance and self-respect.

Let's do this!
1. Mindset -- a strong and positive one -- is essential to developing healthy self-esteem. It is an important tool that affects our daily self-dialogue and reinforces our most intimate beliefs, attitudes and feelings about ourselves. I have created a Magic Mindset 7 reset that helps you establish 7 key exercises that are my secret weapon in locking in that positive mindset that will allow you to start your self-love journey with success! My first mindset tip for you...make personal development a priority...YOU ARE WORTH IT!
2. Mindful Eating -- You can ditch the diet mentality and make peace with food. That's right, I said it! I went my whole life yo-yo dieting, starving myself, excessively exercising with movement that I hated. I have now embraced a new way of being, an anti-diet approach that has helped me to heal my relationship with food & I am now passing on my new found knowledge to you! A first step towards mindful eating? Try eating your next meal tuning into your hunger and fullness cues. Notice how hungry or full you are throughout your meal & really connect with your body!
3. Building community -- My life has always been very blessed by amazing communities of women who stood beside me through my journey to self-love. Surrounding yourself with like-minded people, focusing on body positive social media groups and people, and letting go of people who no longer light you up...are all some ways you can start building that positive community.
4. Self-Esteem & Self-Care -- These two practices change everything! When you take the time to build that confidence muscle, your self-esteem improves. When you learn about mindfully taking care of all the areas of your life with emotional self-care, spiritual self-care, personal self-care, practical self-care, physical self-care & mental self-care. Balance is the key to true self-love!
5. Body Image -- This plays a huge role in the success or demise of your self-love journey. You need to do the work to improve your body image, or nothing will change for you. Only 4% of women in the world actually think of themselves as beautiful...so...we need to change that! I have a whole program of body positive practices to help you along your journey to self-love!
6. Mystic & Holistic Practices -- This part of my journey has been soo fun & I love filling up my self-love toolbox with all things mystic and holistic. From aromatherapy, to crystals, to oracle cards, to journaling....this part of my journey has become such a big part of how I have embraced self-love while being supported by all these amazing tools!
7. Mindful Movement -- This is last, but definitely not least. My journal to mindful movement has been life changing. When I found my soul movement of Yoga...life changed forever. Yoga may not be your mindful movement, but I urge you to step out of comfort zones until you find that movement that lights you up! I took the brave leap 9 years ago to take my first yoga class, I soon after became a yoga teacher & have been teaching ever since! Finding movement you love changes everything about finding joy in moving your body instead of moving your body because you feel guilt, shame & judgment if you don't!
So why am I sharing all of this with you? I wanted to give you a small insight into my new signature program The Self-Love Revolution with Martina. This program is a online self-guided program that you follow, along with weekly group coaching with myself. I also give you access to monthly group coaching with my super friends Jill, Jenna & Tanya! Group reiki, group aroma freedom & group new moon intention settings as a bonus to YOU! The transformation you will experience in this program is like NO other! Your time to shine is NOW! You can find self-love at any size...and I would be honoured to be the person to stand beside you in this journey!
P.S. Whenever you are ready - here are 3 ways I can help you on the path to finding self-love at any size through mystic and holistic approaches! Let's find your magic!
1. Receive daily affirmations to your phone! Set the tone for your day with positive self-talk!
Daily Affirmations!
2. Join our community
Imperfectly Perfect YOU: Finding Self-Love at any size!
and connect with women who will empower, inspire and motivate you to love your imperfectly perfect self & learn to accept and respect your body!
3.
Find your Magic Course Library!
Discover movement you love, Find self-Love through journaling, make peace with food, or harness the power of crystals! Receive your special discount to all my courses by using the coupon code: MAGICVIP at check-out! The Self-Love Revolution has also launched! Become a Self-Love Maven by signing up for this transformational program at 40% off (Use your coupon code: MAGICVIP)
Join the Revolution!
Sending you love and light
Martina