Dec 7, 2020 06:45 PM Central
Martina Wall
My opinion of what self-love is has changed over the years. Growing up I thought that I could only love myself if I looked a certain way, had certain friends, hit a certain number on the scale. My view of self-love had nothing to do with self-love. I hated my body a lot of my teens and 20's.
My outlook needed to change.
I am grateful for my journey that has brought me to today. Today I love myself. I am content with myself. I now know that I don't need to look a certain way, have certain friends or hit a certain number on a scale. That doesn't define my love for ME...I choose to love me right now...in this moment. These are some tips I have learned along my journey & hope that it can help others if they are feelin' less than love for themselves and their bodies.
1. Find Gratitude
I know...I know. It seems the average answer for personal development these days always comes back to gratitude. Finding gratitude has changed my view on myself, my situation, my body & how I show up for life.
Step 1: Get a journal! I look at it as free therapy! Writing down your gratitude list is very therapeutic and insightful.
Step 2: Each day write down 5 or more things that you am grateful for. I usually try to include 1 thing about my body that I am grateful for...which has helped my self-love. For example, right now I am grateful for my hands and fingers that are allowing me to type this message to you. There is always something to be grateful for. Be creative in the ways you can find gratitude for a multitude of things. A deep breath of fresh air, the sound of Christmas music, laughter, a family that loves and supports you. The possibilities are endless.

2. Make your body happy
When learning to love your body we need to find connection to our bodies. You want to keep that gorgeous body of yours feeling energised and full of vitality. So it's important that as part of your self-love routine you do things that make you feel great in your body; whether that's yoga, running, walking or dancing like nobody's watching! Find something that makes you excited to move your body!
3. Express Yourself
Showing up as your authentic self and feeling free to be totally you. Whether it's dancing, writing, singing, painting, acting, sculpting, cooking, making music, sketching, beading, pottery or poetry – everyone has something that does it for them. It's often something we did naturally as children. It's always something that makes us feel fully alive. Come back to those things you used to love doing...that is truly where you heart is happy & content. So what is it for you? Whether it's unleashing your inner dancing queen on the dance floor, singing like no-one's listening or painting in big bold brush strokes, just for the fun of it, it's essential that you make time to do the things that allow you to really express yourself from the heart.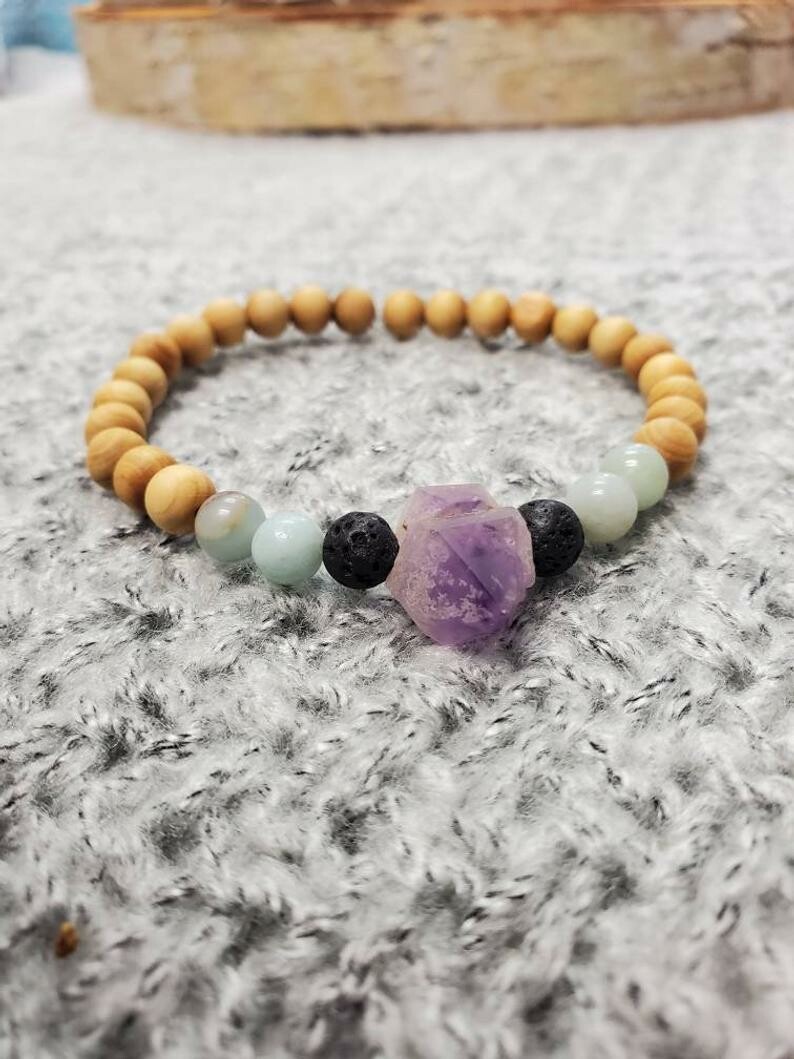 Bonus TIP:
Did you know that wearing certain crystals like amethyst, rose quartz, citrine or sunstone can provide healing energy to you to help increase happiness, self-love & self-esteem? Check out this amethyst, amazonite & sandalwood bracelet. Perfect to bring some good vibes to your self-love journey. Click
here
to shop.
I hope this helps you to discover some different ways we can start to truly love ourselves & nurture our mind, body & spirit. If your looking for more self-love ideas, we would love to have you in our FREE group where women empower each other to love their imperfectly perfect selves.
www.imperfectlyperfectyou.ca
If you would like to go on a journey of self-love discovery with me as your guide....I would love to help you find your magic. My 8 week program will help you to gain self-love without losing a pound! In my own journey I have realized that self-love starts from the inside....as a number of the scale doesn't magically make you love yourself. We discover many different approaches to self-love through Yoga, meditation, affirmations & journaling.
www.martinahealthandwellness.com/page/find-your-magic
Have the best week you guys!
Sending you Love & Light,
Martina